Emilee Girard
---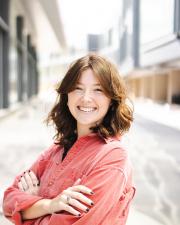 Biography
—
Emilee Girard (she/they) is an academic advisor for Jayhawk Academic Advising working with exploratory and honors students studying in the STEM fields. They received their Bachelor of Arts from the University in Kansas in Psychology and Women, Gender, Sexuality Studies with a minor in Social Justice in the U.S. They plan to go back to school to receive a master's in public administration.
While at KU, Emilee was dedicated to her work as a Student Ambassador, where she held a leadership position of DEIB Initiatives Coordinator, as well as Omega Phi Alpha, a service organization on campus, where she held numerous positions such as Co-Service Director and Vice President. She also worked at a law firm in Lawrence, KS that focused on Legal Aid in Douglas County. Through their academics extracurriculars, and work experience, Emilee has absorbed a passion for social justice, advocacy, accessibility, and social responsibility.
In their free time, Emilee loves to read, crochet, and hang out with her cat, Ruth. 
Education
—
B.A. in Psychology and Women, Gender, Sexuality Studies, University of Kansas
Minor in Social Justice in the U.S
Awards & Honors
—
Aly English Award, Omega Phi Alpha Service Organization, University of Kansas
KU Student Employee Nominee, University of Kansas, 2023
Memberships
—
Omega Phi Alpha Service Organization