Danielle D. Hemingson, Ed.D.
---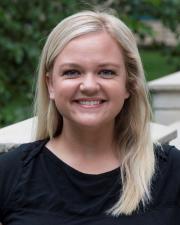 Human Anatomy Laboratory Coordinator
Contact Info
Haworth Hall, room 8014
Lawrence

---
Biography
—
Dr. Hemingson joined KU in the fall of 2021 and is the Human Anatomy Lab Coordinator in Undergraduate Biology. She is an applied exercise physiologist who earned her doctoral degree in Adult and Higher Education and master's degree in Kinesiology and Sport Science at the University of South Dakota. She received her bachelor's degree in Athletic Training from Buena Vista University.
As lab coordinator, Dr. Hemingson's primary area of focus for the human anatomy lab is utilizing focused teaching methodologies based on student-centered learning techniques to engage undergraduate students in the study of larger structures of the body that are visible without the aid of magnification. These techniques include developing hands-on skills in dissection and examination, relating content to real-life application, and fostering critical thinking skills through discovery and investigation.
Professionally, Dr. Hemingson is an ACSM Certified Exercise Physiologist, Wellcoaches™ Certified Health and Wellness Coach, ACSM Exercise is Medicine Credential Level 2, and an ACE Group Fitness Instructor. Her research interests include human anatomy education methods and the relationship between perceptions of personality traits and somatotype.
Awards & Honors
—
 Received the Del Shankel Teaching Excellence Award (2022)