Shelli Nauman
---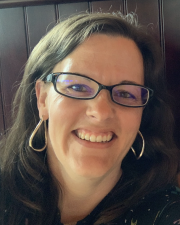 Microbiology Lab Coordinator
She/Hers/Hers
Contact Info
Haworth Hall, Room 6039
1200 Sunnyside Ave
Lawrence, KS 66045
---
Biography
—
Shelli Nauman joined KU in July of 2022 and is a Microbiology Laboratory coordinator for Undergraduate Biology.  She has a Bachelors of Science in Microbiology from Kansas State University graduating in May of 2015.  Shelli was motivated to get all she could out of her education and worked hard to pursue opportunities in the Microbiology Department while at KSU.  She worked for the Microbiology Department as a Laboratory Coordinator assistant for two years, taught Intro to Microbiology lab as an undergraduate for a semester as a UTA and also won the Travel Fellowship award for her Undergraduate Research in Fungal Ecology in 2014.  Shelli was able to present her research on "Fungal communities of the emerging leaves of the Burr Oak tree" at the Ecological Genomics Symposium in Fall of 2014. 
After she graduated Shelli worked for the Kansas Department of Health and Environment testing water for the State of Kansas as a water microbiologist.  Shelli also worked in the private sector as a Food microbiologist for five years and during the COVID-19 pandemic, worked at Stormont Vail hospital as an Infection Preventionist, she felt it was her duty as a microbiologist to assist during the pandemic in any way that she could.  After many trials working in healthcare during the pandemic, Shelli felt it was time for a change in her career when the position as Microbiology Lab coordinator became available.  Shelli has wanted the Microbiology Lab Coordinator role for a long time, so when the opportunity presented itself, she jumped at it and applied for it.  This role is a dream job for her, she was made for it!
Shelli was a guest on the Joyful Microbe podcast in May of 2021 talking about different jobs for Microbiologists, other than the medical field, and also wrote an article for the Joyful Microbe blog called "Introduction to Fungi:  the unnoticed Heroes of the Planet" in 2020.
Outside of academics, Shelli enjoys reading, kayaking and spending time with her family.  She is very passionate about microorganisms and loves to talk about all microbes, their functions, their ecological niches and how one day they might just save the planet! 
Education
—
B.S. in Microbiology, Kansas State University, 2015, Manhattan, KS