Victor H. Gonzalez Betancourt, Ph.D.
---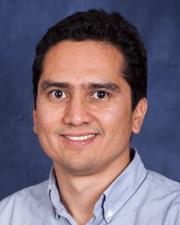 Associate Teaching Professor
Director of Anatomy
Courtesy Researcher, Ecology and Evolutionary Biology
Research Associate, Biodiversity Institute
Faculty Associate, Center for Latin American & Caribbean Studies
Contact Info
Haworth Hall, room 1034
Lawrence

---
Biography
—
Dr. Gonzalez is a broadly trained evolutionary biologist. He uses student-centered teaching and learning approaches to provide transformative experiences to undergraduate students. These include merging arts and sciences, experiential-based learning, discovery-based experiences, integrating learning technologies, near-peer teaching, and a humanistic approach.
Undergraduate students from different backgrounds are heavily involved in Dr. Gonzalez's research, which focuses on comparative morphology, behavioral ecology, plant-pollinator interactions, and ethnobiology. More information
Dr. Gonzalez also participates actively in a number of synergistic activities that involve government and non-government organizations to educate the public and to assess biodiversity and ecosystem services.  
Teaching
—
Teaching interests
Human anatomy
Principles of biology
Insect biology and morphology
Scientific illustration
Ethnoentomology
Selected Publications
—
Representative publications (* undergraduate student co-author)
Mattingly, S., *Hardesty, E., Chovanec, K., Cobos, M.E., Garcia, J., Grizzle, M., Huerta, A., Ohtake, J., Romero-Alvarez, D. & V.H. Gonzalez (in review). Teaching anatomy using cadaveric prosections: effects of in situ and ex situ materials on students' identification ability. Anatomical Sciences Education.
*Sparacino, A.M., Gonzalez, V.H., Ball, S., Cielocha, J.J., *Helm, K. & D.S. McLeod. 2019. A quantitative analysis of four undergraduate human anatomy laboratory curricula: approaches, identified structures, concepts, and thematic emphases. Medical Science Educator 29(1): 101–111.
Gonzalez, V.H., Amith, J.D. & *T.J. Stein. 2018. Nesting ecology and the cultural importance of stingless bees to speakers of Yoloxóchitl Mixtec, an endangered language in Guerrero, Mexico. Apidologie 49(5): 625–636.
Gonzalez, V.H., *Cruz, P., *Folks, N., *Anderson, S., *Travis, D., Hranitz, J.M. & J.F. Barthell. 2018. Attractiveness of the dark central floret in wild carrots: do umbel size and height matter?. Journal of Pollination Ecology 23(11):98‒101.
​Gonzalez, V.H., *Patton, R., *Plascencia, M., Girişgin, O., Çakmak, I. & J.F. Barthell. 2018. High levels of tolerance between nestmates and non-nestmates in the primitively eusocial sweat bee Halictus scabiosae (Rossi) in Turkey (Hymenoptera: Halictidae). Insectes Sociaux 65(2):339‒343.
Gonzalez, V.H., Ball, S., *Cramer, R. & *A. Smith. 2015. Anatomical and morphometric variations in the arterial system of the domestic cat. Anatomia, Histologia, Embryologia 44: 428–432.
Gonzalez, V.H. & T. Griswold. 2013. Wool carder bees of the genus Anthidium in the Western Hemisphere (Hymenoptera: Megachilidae): diversity, host plant associations, phylogeny and biogeography. Zoological Journal of the Linnean Society 168: 221–425.
Gonzalez, V. H., Ortiz, P. & G. Frausin. 2012. Forced migration and indigenous knowledge of displaced Emberá and Uitoto populations in Colombia: An ethnobotanical perspective. Mundo Amazónico 3: 165‒177.